The Chaplains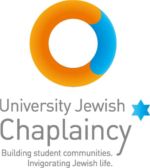 University Jewish Chaplaincy works with JSOC to provide a permanent communal framework for all Jewish students in Oxford . We are officially recognised by Oxford and Oxford Brookes Universities as the Jewish Chaplains on campus and as such, are here for you for every aspect of student life. From personal and health issues through to navigating bureaucratic challenges, we are experienced in traversing the complexities of university life. Our aim is to create a warm and open-minded environment in which Jewish students can comfortably live an inspired Jewish life whilst away from home. University Jewish Chaplaincy works with Jewish communities and organisations across the country to plan and develop for the future of Jewish student life. Whilst students come and go, Chaplaincy ensures that the infrastructure is in place year-after-year, providing the one element of consistency and stability in the ever-changing university environment.
What We Do
Programme quality and diverse Jewish activities on campus
Increase student participation in those Jewish activities
Provide excellent Jewish education to as many students as possible, with entry points across the spectrum of Jewish learning
Connect with Jewish students and build student communities
Partner with the Jewish Societies on campus
Represent the students' best interests as necessary to university faculty
Chaplains are also there for:
Student Welfare
Practical Support
Spiritual Guidance
Encompassing both pastoral and religious duties both on and off campus, we are available to support students who have been bereaved, or who have issues with stress, drugs and loneliness. It is not uncommon for our home to be a hive of activity well into the night as students gather for a meal, a quiet chat or to prepare for an upcoming Yom Tov or Shabbat.
We are looking forward to meeting you!
Rabbi Michael & Tracey
Contact us:

| | |
| --- | --- |
| This email address is being protected from spambots. You need JavaScript enabled to view it. | This email address is being protected from spambots. You need JavaScript enabled to view it. |
| 07786 706 205 | 07717 742 835 |